WEBINAR REPLAY
Q2 2017 Bramshill Investments Webinar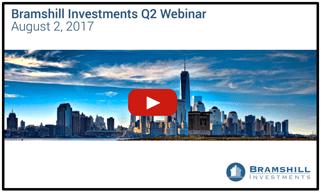 With numerous crosscurrents in the market resulting from recent mixed economic data and market expectations, there's uncertainty in the air for fixed income investors. In our Q2 webinar, we shared our views on the current fixed income landscape from a top down and bottom up perspective.
In the replay of this exclusive webinar with Bramshill Investments CIO Art DeGaetano, Portfolio Manager Derek Pines, and CEO Stephen Selver, you'll learn about:
Perspectives on 5 major asset classes in fixed income

Positioning portfolios for a potential increase in rates

Slides and charts on important indicators of opportunities and risks

To download the webinar, please fill out the form on this page.